A Paleo Meal Plan You Can't Live Without
Having an effective Paleo meal plan laid out for you could help you enormously in keeping to this natural, wholesome way of eating.
And consequently, by not straying from eating only healthy nutritious Paleo foods, this diet plan could help you achieve your health & weight loss goals sooner than you thought possible.
However, one of the difficulties in sticking to the Paleo diet is not having enough exciting meal options available to create delicious Paleo meals for every day of the week which could tempt you into straying towards those toxic convenience foods.
So without having a comprehensive Paleo meal plan available it results in many people, albeit with good intentions, falling off the Paleo wagon and denying themselves the chance of improving their health & bodies naturally.
A comprehensive diet plan combined with a wide range of recipes will make it easy to avoid the common pitfalls and ensure you get to enjoy all the natural health & weight loss benefits that come with it.
Disclaimer: Whilst many people have enjoyed spectacular results with the Paleo diet, in terms of losing weight naturally, it should be noted that the type & amount of foods ingested, rates of metabolism as well as levels & intensity of exercise will vary from person to person which can have a significant affect on their individual weight loss results.
This sample 7 day Paleo meal plan represents a typical weekly menu plan to help you get started on the Paleo diet plan & hopefully help you lose weight, reduce internal inflammation, increase your vitality & end your cravings.
7-Day Paleo Diet Meal Plan
1. Monday
Breakfast – A bowl of berries with coconut milk or have a Paleo omelet
Lunch – Big salad with your favorite protein (chicken, steak, etc.)
Snack – Apple slices with almond butter
Dinner – Slow cooker pulled pork
After Dinner Snack – Handful of macadamia nuts
2. Tuesday
Breakfast – Paleo banana bread or have bacon & eggs with a portion of fruit
Lunch – Blanched/sauteed veggies (pre-made and reheated)
Snack – Can of tuna
Dinner – Taco pie
After Dinner Snack – A couple of pieces of dark chocolate with a minimum 80% cacao content
3. Wednesday
Breakfast – Coconut milk smoothie or have banana pancakes
Lunch – Soup (reheated or in a thermos)
Snack – Paleo trail mix
Dinner – Stuffed bell peppers
After Dinner Snack – Beef jerky
4. Thursday
Breakfast – Paleo cereal (mixed nuts & berries) with coconut milk or have Paleo muffins
Lunch – BLT wrap with lettuce instead of bread wrap
Snack – Hard boiled eggs
Dinner – Fajitas
After Dinner Snack – Handful of blueberries & almonds (not too many if you're watching your weight)
5. Friday
Breakfast – Steak and eggs
Lunch – Cold cut meats and veggies (snack-like but filling)
Snack – Avocado
Dinner – Paleo fried chicken fingers
After Dinner Snack – 2 spoons of chicken liver pate with sliced carrots
6. Saturday
Breakfast – Eggs and sweet potato hash browns
Lunch – Sandwich with bell pepper slices instead of bread
Snack – Almonds
Dinner – Sun dried tomato bacon wrapped meatloaf
After Dinner Snack – Small cup of full fat, unsweetened yogurt with blueberries
7. Sunday
Breakfast – Egg/veggie/meat scramble
Lunch – Dinner leftovers
Snack – Paleo trail mix
Dinner – Meat and veggie stir fry
After Dinner Snack – Some sardines in olive oil with chopped tomatoes
I've only included the "After Dinner Snack" option to give you something to nibble on if you're still feeling peckish while sitting in front of the TV.
Always remember that the Paleo diet should not be seen as boring or restrictive as it is packed with an enormous & diverse variety of nutritious & tasty food that you can enjoy with every meal.
Just remember that when you have all your meals planned & mapped out for you, your chances of sticking to a healthy eating plan & achieving your weight loss goals are massively increased.
Be Careful Of Getting Bored On the Paleo Diet
For anyone who says they're bored by eating Paleo food, it is not really about the food but more about the person & the meal choices they have available to them.
Whilst this 7 day meal plan provides you with a good way to get started on the Paleo diet, you will need more variety, recipes & meal options to keep it interesting and to remain committed to this way of eating as well as being able to enjoy all the benefits that come with it.
I would therefore suggest that you get hold of a diet plan that provides you with enough different Paleo approved meal options for at least a month or two to keep it interesting & exciting.
The danger is that without a comprehensive meal plan, complemented with exciting & interesting recipes, you may get bored by having the same meal too often or not having enough tempting Paleo recipes on hand.
Lastly, Losing Weight Is All About Hunger Control & Not Portion Control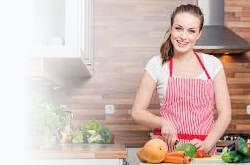 The beauty with the Paleo way of eating is that you can basically eat as much as you like with little danger of over eating…
…this is because real Paleo food & meals are non-addictive and will leave you feeling satisfied & satiated without wanting more or still feeling hungry which helps you to control your hunger naturally.
Keep it interesting & exciting with this fantastic collection of over 370 approved Paleo recipes (and 8-Week meal plan) here…